News
The value we place on something is often an indicator of how hard we are willing to work for it; "For where your treasure is, there your heart will be also" (Matthew 6:21). I have seen people treat their jobs better than they treat their spouses; they are always there when needed, take on problems nobody else wants, stay longer to finish assignments, and sacrifice weekends and holidays for the sake of the company. "You were bought at a price; do not become slaves of men" (1 Corinthians 7:23). What would happen if we put as much effort into our marriages as we did our careers? Adam clearly spoke of how Eve was a part of him and he a part of her, then explained, "For this reason a man will leave his father and mother and be united to his wife, and they will become one flesh." (Genesis 2:22-25).

Cross Connections held its semi-annual Clergy Connection on Thursday, September 13 at Concordia Theological Seminary. Susan Reusser, Clinical Director of Cross Connections, led a discussion on the book, "Family Vocation: God's Calling in Marriage, Parenting, and Childhood", by Gene Edward Veith, Jr. and Mary Moerbe.
There were 32 area pastors, parish leaders, and school principals who attended to enjoy the lunch, fellowship, and group discussion on how to effectively assist families who are experiencing crisies and chaos in their domestic and spiritual lives. A special thank you to Concordia Theological Seminary for their assistance in hosting the event. The next Clergy Connections will be held sometime in February 2013.
Cross Connections is pleased to welcome The Chapel into membership of its Community of Churches. The Chapel is located at 2505 West Hamilton Road South here in Fort Wayne, Indiana. Please click on www.thechapel.net to read more about how our Lord is using this congregation of believers to His glory!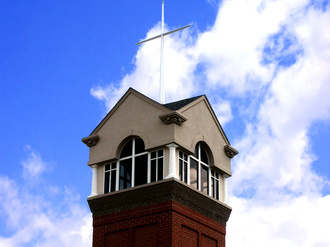 The 4th Annual Golf Outing held on Saturday, September 8 at Cherry Hill Golf Club was a day filled with beautiful weather, great company, and God's blessings as over $8,700 was raised for the ministry of Cross Connections.
Sixteen foursomes took part in the event that featured 18 holes of golf at one of Fort Wayne's finest courses, a Silent Auction that featured 63 items donated by friends of Cross Connections, and a special appearance by Fort Wayne Mayor Tom Henry. Mayor Henry began the event by welcoming the golfers and thanking them for supporting this valuable community resource.
Thanks to all of the sponsors, donors, staff, and volunteers who made the day such a tremendous success. The Lord continues to bless Cross Connections!!
Cross Connections, Inc. is pleased to announce that Susan Reusser has been led to us by the Lord as our new Clinical Director. She will be replacing Kathy Eggold and Terrie Ensley, who have been sharing the job responsibilities since our ministry began. Kathy and Terrie will still be counseling part-time for us.
Susan is a licensed clincial social worker (LCSW) who has been providing social work services since 1986. She hs worked with individuals, families, and groups to assist them with life problems including substance abuse, homelessness, and physical and mental illness. She also has experience in working with military Veterans and their families.
The first annual Cross Connections "It's a Spring Thing" event was held on March 1 in the Grand Marquis ballroom at the Marriott on Washington Center Road. The evening was a tremendous success and raised more than $28,000 for the ministry!!