"To provide affordable biblical
counseling and train lay counselors
in offering biblical guidance"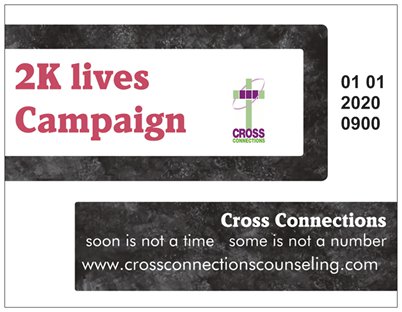 This is our pledge for the next 6 months. We are asking 2,000 individuals to donate $50 to help 2,000 people
see hope through Christ. We can get there and expand the seating capacity in God's throne room one struggling person at a time. You can help us!

Because soon is not a time and some is not a number
If you wish to donate a different amount, please use our open donation form:

Testimonials
"There were a lot of barriers put up by both of us. By focusing on the right things and what God expected of us, those barriers melted away and found a new love. A stronger love. A love with God in the center of it!"
"I really feel God was there for me. As things evolved my husband finally did tell me that he wanted out of the marriage so this was a very traumatic time for me because I just never thought I would ever be divorced."
"I was really in despair. Total despair. I'd been humiliated. I'd been rejected. I believe I would have been a suicide victim if not for Cross Connections. It saved my life. It just saved my life."